Vegas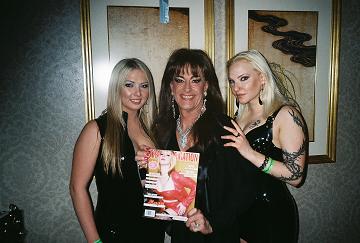 Busy Busy Busy as always. I just got back from Vegas, had a great time as always. Mistress Coral

Coral and I did a great humiliation scene for all of Vegas to see, we left the curtains open on the floor to ceiling windows as we took turns ass fucking our slave. *GRIN*

AVN convention was fun except for walking around in 8 inch heels for hours. I met several fans and received a much needed foot rub in the hotmovies.com booth. Pornstars & perverts.


I got home to see several presents in my mail box including the
and we stayed at the Wynn, what a beautiful hotel. Well anywhere that can command $8 for toast must be something special.DVD Box set of Carnival and a "Yes Mistress" book. Whoo hoo! I love watching DVD's when I travel.

It was gift wrapped but no name of who is was from, but thanks. Also thanks to whatever subbie out there sent me 3 pairs of sexy heels a month back :)

Coral and I are in the photo with Marlayna from Transformations, Forced Womanhood, and enslaved sissies magazines.

I am actually in the issue Marlayna is holding Transformations #67. The photos are from last years AVN Fetish Party.