New sissy video at MeanGirls!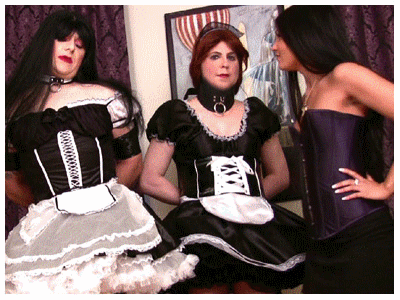 Sissy Maid inspectionFull Length MOVIE**
Jade and Nikki have very high expectations for their live in sissy maids. The girls conduct their weekly sissy maid inspection to ensure the sissy slaves are up to their standards. Sissies line up where the girls inspect their chastity devices, a proper sissy maid always has their little cock pellet locked away. Danielle is first up for pussy inspection.
Jade asks " Are you tight for me today?? Or loosely goosey?? Have to been dildoing your ass-pussy ?"
Jade gives Danielle's ass-pussy a fingerbang inspection revealing that Sissy Danielle's slut hole is definitely Loosey goosey!! WHAT A SLUT! Danielle Sucks on Nikki's strap on while Jade takes a DRILLDO to her ass. Danielle yelps in excitement from having her pussy pounded so hard. Jade gets so excited while spinning that huge cock inside sissy Danielle's pussy-ass. Nikki keeps Danielle quiet by forcing cock down her throat.
Next up for inspection is Sissy Maid Sasha….. Jade cuts open Sasha's pantyhose exposing her plump little ass ready for fucking. Sasha's ass-pussy is much tighter, Jade warms Sasha up with some finger fucking. Next Nikki straps on a head harness dildo onto Slutty Danielle.
While stroking Sissy Danielle's head harness dildo Jade asks "Do you know how to use a cock properly? Do you want to show me how you use a cock?"
Sissy Danielle is made to fuck Sissy Sasha's ass with the head harness dildo. ( How humiliating and hott) Jade instructs Danielle on how she wants Sasha fucked. While getting ass fucked Jade teases Sasha with her panties, "Your sissy dick is locked away, and you will never have my pussy. HA HA"
Next the sissy maids are made to kneel facing each other. The girls make the sissy slaves fondle one another and kiss. Jade eggs them on to make out passionately. When Jade is satisfied with enough amusement from her sissies she orders them to go clean their whored out selves up!
Very HOTT, raunchy, and perverted video! One of our best yet!
http://www.meangirlsclub.com/